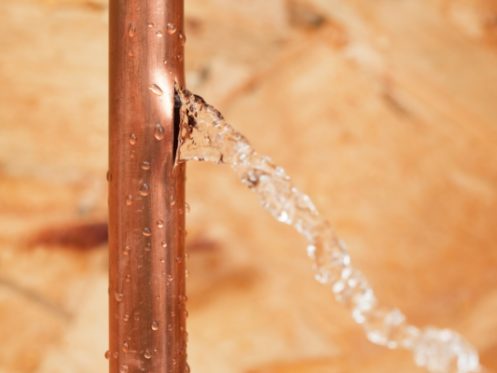 Often referred to as the "handyman in a can," Flex Seal is the latest "cure-all" in the do-it-yourself market. Second, only to Gorilla Glue, this product is touted as being able to quickly and cheaply repair a host of common household issues. Handy homeowners throughout the nation are using Flex Seal to sidestep the costs of hiring professional contractors whenever they can. However, despite aggressive marketing campaigns and glowing testimonials from consumers who've tried it themselves, Flex Seal should never be used to repair the plumbing in your Tucson, Arizona home. Following are six solid reasons why.
1. You'll Void the Protections From Your Home Insurance and Home Warranty
Using Flex Seal to fix a plumbing leak or a loose connection could leave you spending thousands of dollars out-of-pocket for future repairs and water damage restoration. Do-it-yourself projects with products like Flex Seal are strictly forbidden in home warranty plans and home insurance policies. Although most consumers can easily cite the numerous benefits that their warranties and insurance provide, few are as well-versed in the requirements that they must adhere to in order to keep these agreements intact.
If you're unsure, take a minute to read through your home insurance policy and your home warranty agreement. You'll find that all covered items should always be repaired by licensed professionals with the proper training, certifications, experience, and insurance. If they aren't, any resulting damages will have to be covered by you. Moreover, your warranty agreement and home insurance policy will likely be canceled. Keep this in mind before pulling out your toolbox and any low-cost sealants like Flex Seal to resolve a plumbing issue.
2. All Plumbing Repairs Must Be Up to Local Building Code
Even if you aren't thinking about selling your home right now, the Flex Seal that you apply today could come back to haunt you in the future. Most mortgage lenders require homes to pass rigorous pre-sale inspections before they finance motivated buyers. During these inspections, home inspectors check to ensure that all major home systems are up to code. This includes plumbing systems.
Nothing will catch the attention of a prudent home inspector like plumbing elements that have been liberally coated in products like Flex All. Even if your repair works, it isn't guaranteed to pass inspection. This means that if you choose to sell your home later on, you may have to pay for professional plumbing repairs anyway just to get your property to pass inspection. If you don't, you could be stuck waiting for a cash-rich buyer who's willing to both make an offer and overlook the obvious do-it-yourself repair that you've performed.
3. Flex Seal Isn't Food Grade
Never mind the fact that you might void both your home warranty and your home insurance by using Flex Seal to complete your own plumbing repairs or that you might render your home incapable of passing inspection. Flex Seal isn't exactly food grade. This is one thing that consumer reviews of this product in plumbing applications rarely discuss. Putting Flex Seal on any of your plumbing system's supply pipes could expose both you and anyone else in your household to harmful contaminants. Licensed plumbers know the dangers of using products that leach toxic chemicals into residential water supplies. This is why they only use adhesives and other materials for their repairs that are up to code, food grade, and guaranteed to be safe. When it comes to the health of your family, the low costs of a DIY Flex Seal repair simply aren't worth the risk.
While you may have heard that Flex Seal was food grade through an online, third-party sales platform or a consumer review, the manufacturer of Flex Seal asserts that it is most certainly not. According to Flex Seal Products, Flex Seal is not approved for use around foods. If you've used Flex Seal to repair a leaky supply pipe, schedule a professional plumbing service right away. Ingesting Flex Seal can cause nausea, vomiting, and diarrhea. Long-term exposure can negatively affect the central nervous system.
4. Flex Seal Should Never Be Used on Vinyl
There's another little-known drawback of Flex Seal that's also verified by the product's own manufacturer. Flex Seal cannot be used successfully on vinyl in any long-term applications. You might think that your plumbing system doesn't have any vinyl. After all, most plumbing components are made from galvanized steel, copper, acrylonitrile butadiene styrene (ABS), and cross-linked polyethylene (PEX). However, this list also includes polyvinyl chloride (PVC) and chlorinated polyvinyl chloride (CPVC), both of which are ultimately vinyl. In fact, if your plumbing system is fairly new, a goodly portion of it is likely vinyl-derived.
5. Flex Seal Can Be Compared to Cans of Compressed Air and Tire Sealant
Using Flex Seal to fix your plumbing is about the same as using a can of compressed air and tire sealant to fix a flat tire on your vehicle. If you puncture your tire and happen to have a can of tire sealant and compressed air handy, this product will give your tire enough lift to get your rim off the ground. This way, you can safely drive to the repair shop and have the damaged tire replaced. You certainly wouldn't go on a long road trip with a tire that's been treated with a low-cost, short-term fix.
Tires are subjected to high heat, friction, movement, and more. Low-cost fixes make them incredibly prone to blow-outs and other types of failure. This is also true of your plumbing components. High heat and high amounts of pressure can quickly wear a low-cost fix out. Flex Seal is, at best, a temporary solution. When you use it, you are only delaying the inevitable.
6. Flex Seal Failure Can Be Far Worse Than the Initial Plumbing Problem
Imagine repairing a leak or a developing leak with Flex Seal and recognizing your repair as a success. If you've already read a number of glowing reviews about this product, it will be easy to put pipe damages out of your mind after a Flex Seal application has completely cured. For a while, you'll have the benefit of a low-cost fix.
However, Flex Seal makes no guarantees concerning its ability to hold up well in plumbing applications. In fact, if you're repairing PVC pipes with Flex Seal, the product manufacturer clearly advises against it. You can't be certain that your supply pipes aren't leaching harmful chemicals from Flex seal into your drinking, bathing, or cooking water, and you never know how long the repair will hold.
When a DIY Flex Seal repair fails, widespread water damage is the most likely result. This could mean having to replace damaged drywall, baseboards, and flooring. It can also mean having to replace other aspects of your plumbing system that would have been perfectly fine had you paid for professional plumbing repairs from the outset. Worst of all, none of these projects will be covered by your home warranty or home insurance plan because they'll be the result of you having ignored the terms of these agreements.
Flex Seal certainly has its uses. However, DIY plumbing repairs isn't one of them. If you've got cracked, leaky, or otherwise damaged pipes, always call a professional instead.
At Fusion Plumbing & Air, we're proud to serve Tucson, Arizona and the surrounding areas. We offer plumbing, water heater installation, water filtration, and drain cleaning services. If you've got damaged pipes, we've got you covered. Call us today to request an estimate or to schedule an appointment.