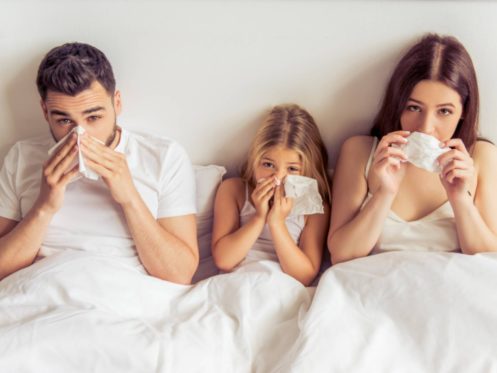 Suffering from frequent or severe allergies can make life miserable. For many people, this leaves them searching for any potential way to overcome their allergies or at least reduce their symptoms. Taking allergy medication is obviously one place to start. Still, there are also changes you can make to your home that can provide much-needed relief from your allergy symptoms. Using a humidifier is one option that can provide some relief and help you breathe easier.
Breath Easier With a Humidifier
Arizona is famous for its hot, extremely dry climate, and this can cause huge issues for anyone who suffers from allergies. Constantly breathing in dry air can worsen the sinus irritation and inflammation that most allergy sufferers experience. For this reason, many people turn to using a humidifier as a way to overcome the discomfort and relieve the worst of the allergy symptoms.
Breathing more humid air can reduce the inflammation and irritation of your nasal tissues, as well as lessen sinus congestion. Higher humidity levels can also help to prevent allergy symptoms. By moistening your nasal tissues, you actually make it easier to blow allergens and irritants out of your nasal cavity. For these reasons, a humidifier is definitely something that every allergy sufferer should consider using.
However, it is important to note that excess humidity can also create issues for allergy sufferers. If the humidity level inside the home rises too high, it creates ideal conditions for both dust mites and mold to thrive. This can be problematic since these are two of the most common household allergens.
Because of the possibility of increased mold and dust mites, it is recommended to use a hygrometer to monitor the humidity inside your house. Ideally, the humidity level should remain constant at around 50%. A little above this is usually not a problem, but you definitely want to keep the humidity below 60% to prevent mold and dust mites from being able to flourish.
One other thing to note is that humidifiers do need to be cleaned regularly. Otherwise, they can quickly become breeding grounds for bacteria and fungi that can worsen your allergies and potentially cause other health issues.
Portable vs Whole-Home Humidifiers
When it comes to choosing a humidifier, you have several different options. There are a variety of different types of portable humidifiers, as well as whole-home humidifier units.
The portable units can definitely provide some relief from allergy symptoms, but they do have their drawbacks. For starters, these units can only humidify the air in one space, such as your bedroom. This means you would need to purchase multiple units in order to humidify the air inside your entire home, or you could have varying allergy improvements from room to room if only a few have humidifiers. Portable units also require more maintenance as you'll need to constantly replenish the water supply.
In most cases, a whole-home humidifier is the better choice. These units work in conjunction with your home's current HVAC system to humidify the air circulating throughout the entire building. They are also directly connected to your home's water supply, which means you'll never need to worry about refilling the water tank.
Most whole-home humidifiers are relatively cheap and can be installed in just a few hours. In fact, you may even find that a whole-home humidifier costs less than purchasing multiple portable units. A whole-home humidifier will also typically use less energy than running multiple portable humidifiers while keeping the home at a uniform humidity level.
Other Solutions That Can Help With Allergies
Humidifiers are just one option that can help you overcome your allergy symptoms. There are also various other systems and services that can help minimize the concentration of allergens inside your home and improve your indoor air quality.
One such option is to have your home's ductwork professionally cleaned. Dust, pollen, and other allergens can collect inside your home's ductwork over time. Not only can this accumulation lower the efficiency of your home's heating and cooling systems, but it also results in those allergens being blown throughout the home every time your furnace or AC runs. This is why most HVAC experts recommend that you have your ducts cleaned once every three to five years.
Upgrading your home's HVAC air filter is another simple way to reduce the concentration of allergens and other pollutants inside your home. The most basic air filters are really only effective at trapping dust and other larger airborne particles to prevent them from damaging your HVAC equipment. However, there are also much more efficient air filters that can trap pollen, pet dander, dust mites, and most other airborne particles.
HVAC air filters are usually rated using the MERV (minimum efficiency reporting value) scale, which measures how efficiently the filter traps particles of varying sizes. Most residential air filters are between MERV 4 and MERV 12. The higher the number is, the more efficient the filter is. For the best results, you should choose something like a MERV 10 or MERV 12 filter since this will be much more effective at trapping smaller allergens and other airborne particles.
However, you shouldn't go above a MERV 12 filter without first consulting an HVAC professional. The reason is that these filters can be too restrictive in terms of airflow, which means that using a filter that is too efficient could actually increase your energy costs and potentially damage your HVAC equipment.
Upgrading your air filter is definitely a good option. However, for even greater allergy relief, you may want to consider installing a whole-home air filtration system. Most of these units attach directly to your home's HVAC system in order to filter the air as it circulates throughout the building. This type of system is hands down one of the best choices for allergy sufferers and also anyone who is concerned about their home's air quality. With a whole-home filtration system, you won't have to worry about breathing in allergens or most other airborne contaminants and pollutants. In fact, most of these systems can even remove bacteria and viruses from the air.
Keeping your windows closed during prime allergy season helps to prevent some allergens from getting inside the house. However, the fact is that pollen and other allergens can also be tracked in on your shoes or even on your clothing. For this reason, it is also a good idea to always take your shoes off at the door and to vacuum or mop your floors regularly. In addition, allergy sufferers may want to consider upgrading to a HEPA filter vacuum to ensure that you don't end up spreading the allergens around every time you clean.
Indoor Air Quality and Other HVAC Services
At Fusion Plumbing & Air, our NATE-certified HVAC technicians specialize in indoor air quality testing and solutions. We offer numerous options to help improve your home's air quality and to overcome your allergy symptoms, including whole-home humidifiers, air filtration systems, air scrubbers, and more. Our team also consists of highly experienced plumbers who specialize in sewer lines, drain cleaning, water heaters, water filtration systems, and a range of other plumbing services.
With locations in Tucson and Queen Creek, AZ, we serve customers throughout the Phoenix metro area. To learn more about our indoor air quality services or any of the other services we provide, give the team at Fusion Plumbing & Air a call today.